Receive personalized care in a relaxing spa environment
The team at Impressions, The Dental Hygiene Spa is excited to offer our clients personalized care in a relaxing spa environment. Our focus is on the treatment and prevention of oral disease to ensure better overall health.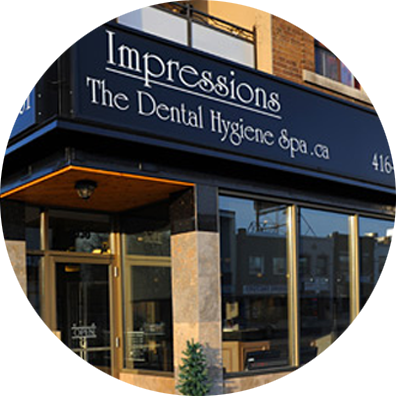 Since September 2007, Ontario residents have had the choice of receiving professional treatment by Registered Dental Hygienists without having to see a dentist as well. For decades, dental hygienists have been the primary providers of preventative oral care. Established in 2008, we are proud to be one of the first independent dental hygiene practices in Toronto.
We take the time to treat you as an individual and explain all aspects of your care from start to finish. Our dental hygienists provide a comfortable experience for the whole family in an office that is free of the unpleasant sounds, smells and appearance that may have deterred you in the past.
Our spa environment goes beyond the warm and cozy décor to include complimentary spa services aimed at helping you relax so you can enjoy your experience. We hope that your dental hygiene visits are something you can look forward to.
Check out our Products Boutique located within the spa. We offer Oral-B and Sonicare electric toothbrushes, replacement brush heads and other oral care aides, locally made organic essential oil rinses and lip balms, xylitol rinses, as well as the BreathRx line of oral care products for purchase.
We now carry bamboo toothbrushes! Available in adult and children's sizes, these biodegradable toothbrush handles can be disposed of in your organic waste bin.
We also carry 100% Certified Organic Oil of Oregano, which in addition to fighting colds and flus can also be used to treat bad breath, gum disease and infections.
For more information regarding the dental hygiene profession and your oral health related to your overall health, please visit the Canadian Dental Hygienists' Association and the Ontario Dental Hygienist's Association websites.