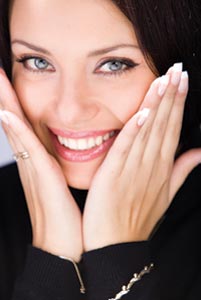 Polishing
Some staining can be removed through polishing. In many cases, the stain is not on the tooth, but rather on the calculus. After a thorough scaling, your teeth may be polished to remove any remaining surface stains or plaque. This is particularly effective on brown tobacco and coffee/tea stains, although it will not have a whitening effect on yellowed teeth.

Take-Home Whitening Kits
The next step in professional whitening is the take-home kit. Before any professional whitening treatment can be initiated your teeth and mouth must first be assessed and any necessary cleaning or gum treatment must be completed. We will then take impressions of both your upper and lower arches in order to fabricate custom trays for your mouth. Your trays will be ready within a few days. At home, you will fill the trays with the whitening agent and wear them for one hour or more, every day for up to 18 days. The number of days you wear them will depend on the shade you desire. As with all whitening products, you may experience some tooth sensitivity. It is recommended that you discontinue use for a day or two and resume once the sensitivity has subsided. You may also choose to use a sensitivity toothpaste or fluoride rinse to prevent or treat the sensitivity. There are no other side effects to whitening your teeth and it is considered to be very safe.

In-Office Whitening
If you are looking for immediate results with less fuss, in-office whitening is your solution. In about an hour, your teeth can be whitened up to nine shades lighter by using the

Whitespeed Whitening System. A whitening agent will be placed on your teeth and activated with the

light. You will also receive a take home mini-kit for touch-ups at your convenience. It's a quick and easy way to boost your appearance and give you a more youthful, confident smile!
Touch-up Kits
We have single syringe touch-up kits available for sale - no appointment necassary. If you have custom trays and just need a refill, we can provide that for you. Also available is the

whitening pen, which is a simple and effective way to maintain your pearly whites without trays! Ask us for details.

for more information or to schedule your appointment.